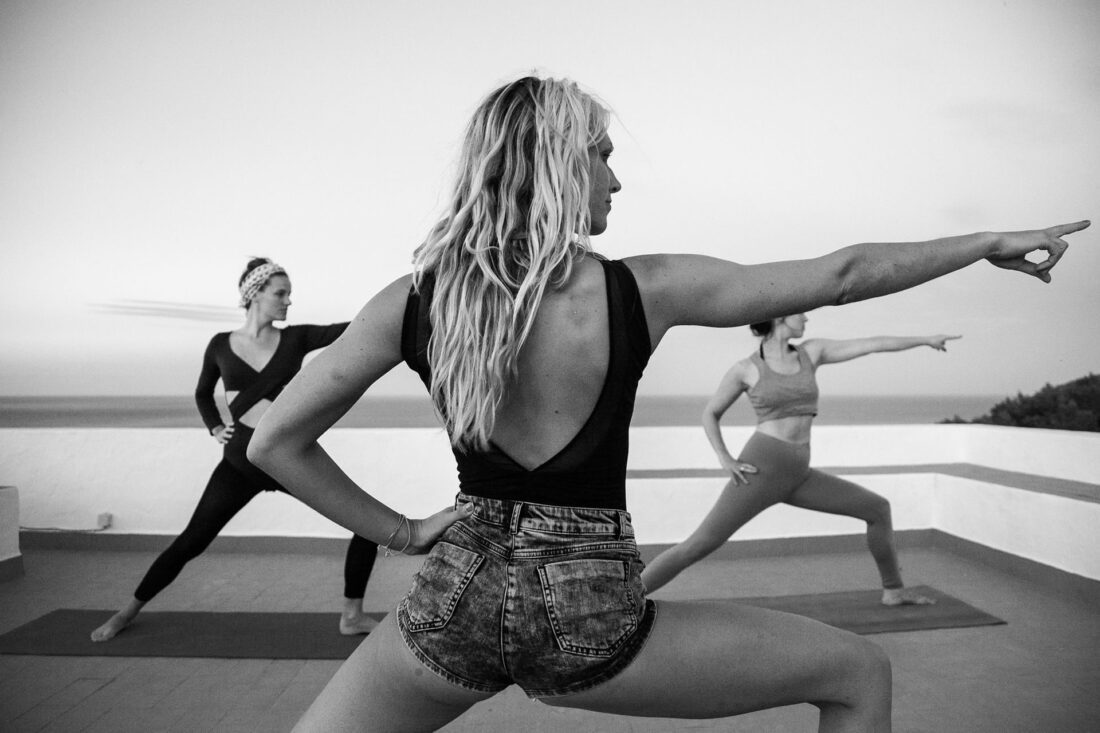 House of VOGA Retreat Ibiza. 29th May – 5th June 2016
HOUSE OF VOGA is teaming up with the fabulous 'A Couple of Healers' and Innovators of London Supper-Club 'Sex in the Pan', to create a unique VOGA holiday of self-discovery, combining sunrise yoga and sunset VOGA; relaxation and rejuvenation; holistic massage and nutritional food to truly balance your yin and yang.
Reknown for its magnetic, calming and recharging effect on the body, IBIZA promises the perfect location to unwind and nourish the mind, body and soul while exploring this expressive form of mindful practise. Expect to see a noticeable change in your body as you gradually tone and shape muscles through focus-designed holistic and cardio sequences to target key areas of the female or male form.
The week offers guests the chance to explore the breath synchronised movement of yoga with the empowering effect of dance and music. Each day will begin with a grounding, slow but strong Vinyasa-style yoga class to wake the body gently and prepare the muscles for a more energetic, early-evening VOGA session with some of our favourite guest DJs on the island.
Channeling power and strength with attitude and flamboyance and set to a soundtrack of dynamic dance and dreamy disco to suit your mood, VOGA BODY IBIZA promises to indulge the senses, add that element of fun into your yoga practise and relive some of the best Balearic beats from this homeland of house music.
The emphasis is on letting go, de-stressing, gaining confidence and most importantly having fun in a friendly and inclusive environment.
Build Strength with Co-ordination. Confidence with Style!
STRIKE A POSE!
Discover how to become fiercely yourself…and Channel your inner vogue!
Also on offer will be PT, Massage treatments with A Couple of Healers, meditation, delicious alkalising meals, hikes, and exploring the island and beaches close by.
This year we have found a stunning Ibicencan hillside villa in the north of the island in Sant Joan, close to the renown magical beach of Benirras. The infinity pool offers plenty of poolside spots to while away your days and evenings taking in the views as well as tree-houses for sunset and woodland to explore at your leisure. The villa itself is stylishly designed to offer every comfort and ease of living for your week.
Prices start at £850 based on a shared room and £1400 for a private double room (or £800 each if staying in a double room with a partner or friend. Ensuite options available)
* EARLY-BIRD VOGUETTES BOOK BEFORE 31ST JAN TO RECEIVE 10% DISCOUNT! *
Included in the price is all accommodation, all meals (aside from one meal at a local restaurant), 90minute yoga and VOGA asana practise twice a day, transfers from the airport (if arriving on recommended flights), and one complimentary holistic treatment from our wonderful ibiza-based therapist.
Not included are flights to the island.
For more info email houseofvoga@gmail.com to book.
For more info visit: Our Retreats Page or email houseofvoga@gmail.com to book.
xx