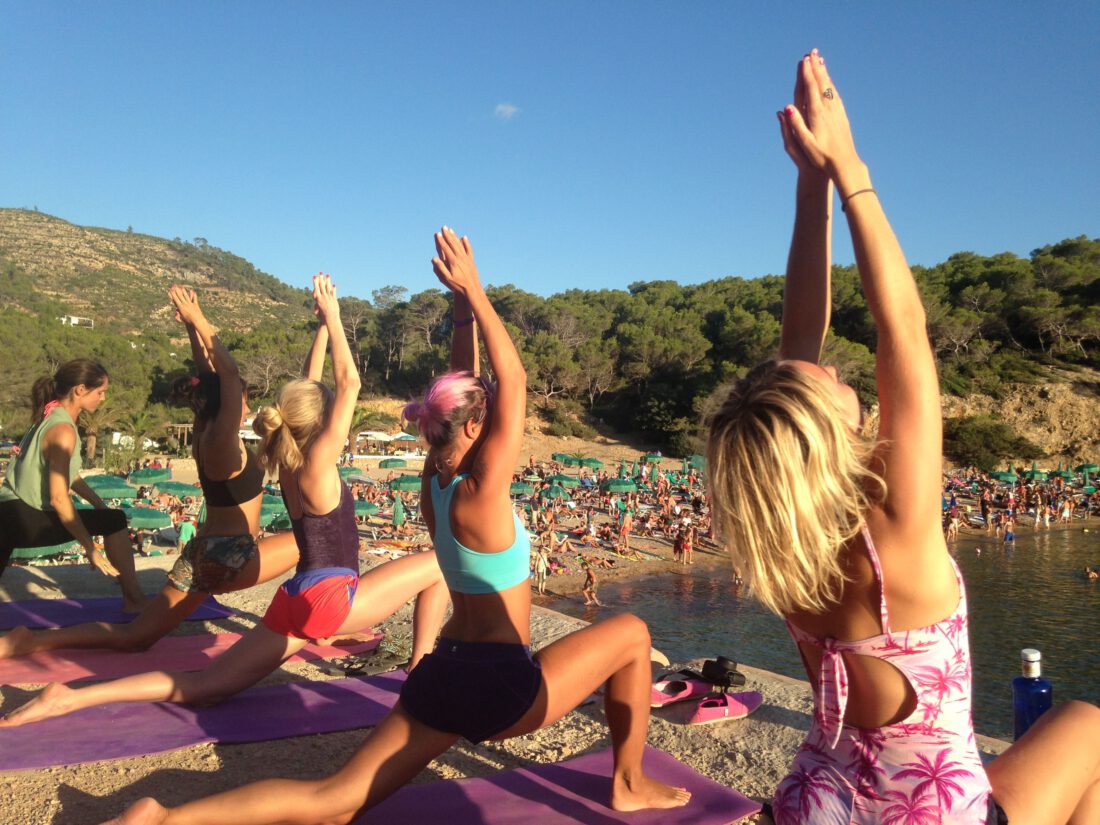 VOGA BODY IBIZA RETREAT – 2018
YOGA, VOGA, SINGING, MASSAGE, CULINARY ARTS AND NATUROPATHY
CREATIVE TEAM
Juliet Murrell VOGA, Flow Yoga
Rose van Rossum Singing, Harmonisation Vocal Improvisation
Capucine Demnard Meditation, Hatha Yoga and Gong Bath
Juliette Jouannet Naturopath and Chef
"Bringing together a group of people and exploring a different time and space within the self, full of discoveries and profound experiences, is a true delight » Capucine Demnard – Artistic Director
After the success of last year's VOGA BODY IBIZA Retreat, we're joining forces with BCN-based VedaCare and heading back to the white isle to experience all the magic and more…
This is not your average retreat. We've designed a series of interconnected music-infused experiences – movement, vocal and deep massage – to instil a sense of confidence and calm, empowerment and nourishment into an unforgettable scenario.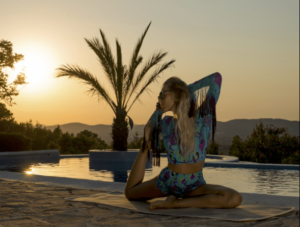 With founder, Juliet Murrell, in residence, we'll be practicing morning sunrise VOGA to awaken and energise the body; and sunset YOGA to workslowly into the muscles and release any tension or stress, with flow and fluidity at its roots.
"Connecting breath to movement and music; and challenging balance, strength and co-ordination creates a powerful feeling of connection and unity for both mind and body you don't get from an average workout."
In-house VOGA singing coach, Rose Van Rossum, will guide us through an exploration of voice, singing diva 80s classics and discovering the effects of harmonisation on the soul. Roos encourages and helps each participant to find their own unique form of expression, using their vocal energy to bring them freedom and release.
'Everyone has a voice, but very few people use it or are brave enough to sing,' she explains. "When I met Jules we quickly realised we both have a great passion for movement and music and knew we had to work together to help others explore this too."
Masseuse Sadie Pickering, former actress/ singer/songwriter, will be offering full body massages as well as Skin-Soul 'Rhythm Of Beauty' Autumn Seasonal Alignments and Facials, illustrating the importance of balance, self-love and how our daily rituals root the soul.
"I will be using award winning flower and plant medicine products which integrate the earth, fire, water and spirit of each season and creates a space for true nourishment, beauty and awakening."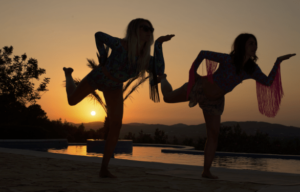 Chef and Naturopath, Juliette Jouannet will be nourishing us with fresh locally-picked food with a varied, colourful menu that contains the key to healthy nutrition and are a delight to eat.
"When I was a child in Auvergne, my dolls' tea parties always resembled meals in top restaurants. Three children later has opened up a world of culinary experiences and challenges, with nature offering up a whole sensory universe to explore to keep food being exciting."
For accommodation, we will be residing in comfort and ease in a stylish, high-end villa in the north of the island, designed for optimum outdoor living with al fresco dining, pool, outdoor loungers, yoga terrace and Balearic views.
Optional experiences to balance your yin and yang on this retreat include trips to local beaches, an eco-catamaran trip a La Belle Verde, sound healing, life coaching, beauty and holistic treatments, a night out at one of Ibiza's best nightclub, San Jordi market and more.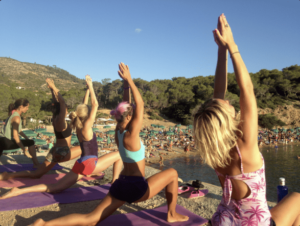 Expect stunning views over the countryside, a truly peaceful, inclusive and warm environment, and a holiday of self-challenge and discovery.
In collaboration with Vedacare https://vedacare.barcelona/en#ibiza-accueil-en
*If you're new to VOGA, it's for all levels and is inspired by vogue-inspired poses, designed to open your heart centre and support your body while moving to dynamic dance beats and winding down to dreamy disco with breath work. You'll love it!
Arrival on Wednesday 10th morning with transfer to from the airport to the villa and welcome meal. (Optional arrival Tuesday 9th – Own transfer)
Last VOGA class of the week is on Sunday 14th morning with transfers to the airport on Sunday afternoon.
You're welcome to make your own transport arrangements.
Please advise if you will require parking.